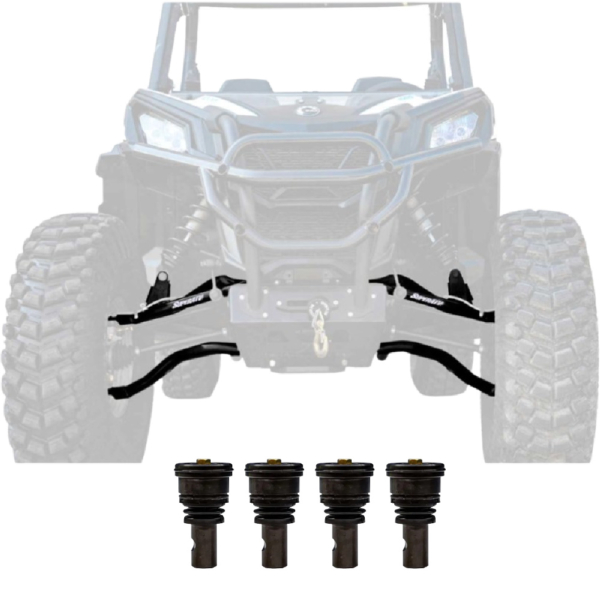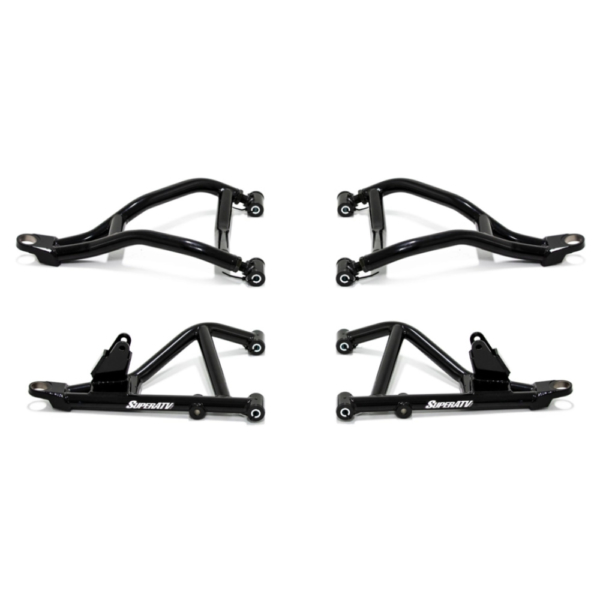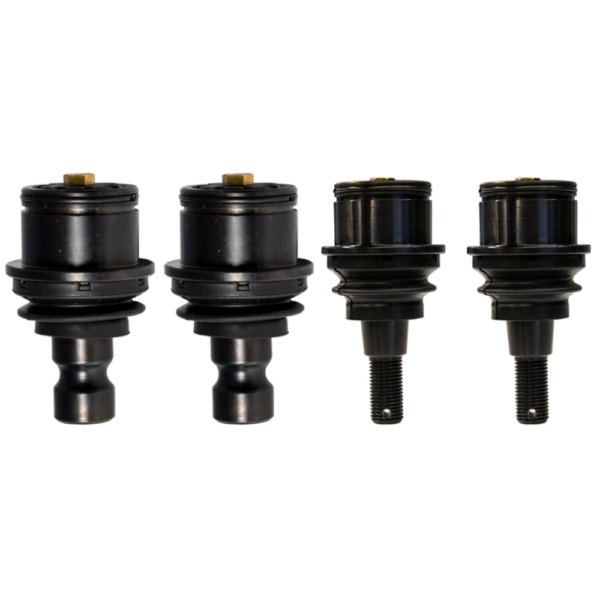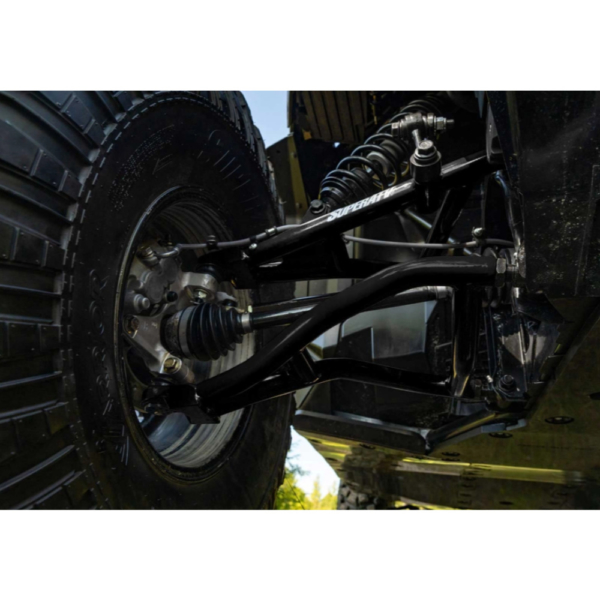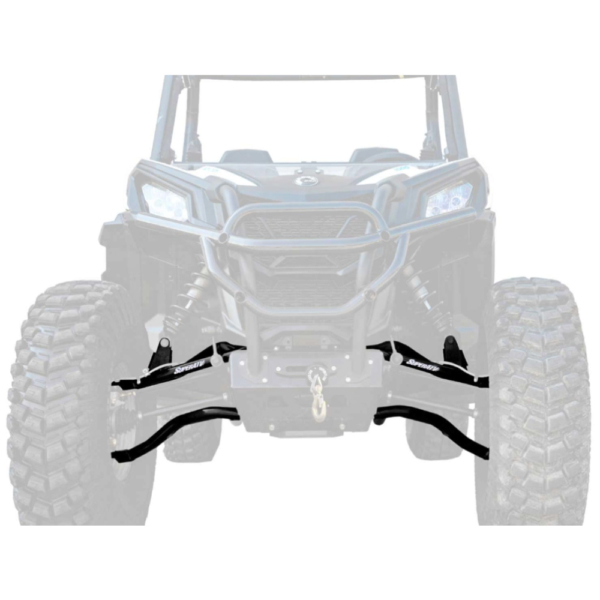 SuperATV Black High Clearance 1.5" Offset A-Arms for Can-Am Maverick Sport
Only 1 left in stock
Description
Manufacturer SKU:
AA-CA-MAVS-1.5-HC-BH-02
High-Clearance, 1.5″ Forward Offset, Heavy-Duty 4340 Chromoly Steel Ball Joints, Black in color
Item Condition:
"Used," Excellent Condition. This is a customer-returned "Scratch 'n Dent" item. Please see the "Scratch 'n Dent" section at the bottom of this listing's description for more information about this type of product.
A-Arms are typically returned because they were accidentally purchased for the incorrect machine. Items may have scratches and/or scuffs from shipping.
Item Description, From the Manufacturer:
Get the Most out of Your Suspension
Whether it's a quick evening ride or a long weekend adventure, the last thing you want is for that trip to be cut short. If you're running weak A-arms, all it takes is one unfortunate rock or stump before your suspension is shot to hell, canceling the rest of your ride. Luckily, SuperATV has what it takes to keep your Can-Am Maverick Sport going strong over the roughest trails and rock gardens. Our High Clearance 1.5" Forward Offset A-Arms are made with tubing that's 25% larger than stock, making them more dependable. You also get more stability while covering rough ground and the ability to adjust your camber, delivering the ultimate UTV suspension upgrade.
Extra Clearance + Forward Offset = More Fun
The unique bend design of these A-arms gives you 1.5" of additional ground clearance, allowing you to sail right over obstacles that used to leave you hung up. These A-arms also come with a 1.5" forward offset. By moving the ball joint 1.5" forward, you're extending the length of your wheelbase. This small change to your suspension gives you more stability going over big rocks and logs. A forward offset also allows you to run larger tires without adding a lift kit. Just imagine all the fun you can have with a longer wheelbase, bigger tires, and extra ground clearance!
Better Materials, Smarter Design
The sleek, tubed design of these control arms makes your Maverick Sport look downright awesome. But we didn't just want them to look good—we wanted them to blow all other A-arms out of the water in terms of strength, too. So we started with 1.25" tubing that's 25% larger than stock, and then powder coated it for extra durability and longevity. To make your life easier, we're also including UHMW bushings with your purchase. UHMW is nearly indestructible and virtually frictionless, and these bushings are self-lubricating, so they get smoother the longer you ride. The included bushings save you time, money, and hassle, leaving you free to focus on what really matters: enjoying the ride.
Industry-Leading Adjustable Pivot Blocks
Our high clearance A-arms also come with industry-leading adjustable pivot blocks, letting you adjust your alignment and maintain perfect camber as needed. Having total control over your camber eliminates the premature tire wear that comes with adding a lift kit or bigger tires, which keeps you riding longer. Don't want to mess with those pivot blocks? No need! We make sure they're pre-adjusted to stock specs right out of the box, so you don't have to make any adjustments unless you want to.
Let SuperATV Do the Work – Preassembly Available!
Want to spend more time on the trails and less time in the garage? Purchase a set of SuperATV ball joints with your A-arms and we'll install them for you for free! We save you money and time so you can get back to doing what you love.
Heavy Duty Ball Joints
Our heavy-duty ball joints are designed with ultimate performance and convenience in mind. Whether you're doing flips or chasing hills, our proprietary blend of hardened 4340 VAR steel and zinc plating means this ball joint can take it. Our heavy-duty ball joints also come with easily-accessible grease zerks and an adjustable design. Extensive lab and field testing shows that our heavy duty ball joints can withstand double the pressure of an OEM ball joint!
Vehicle Fitment, From the Manufacturer:
Can-Am Maverick Sport 1000 : 2019+
Can-Am Maverick Sport 1000 DPS : 2019+
Can-Am Maverick Sport 1000R DPS : 2019+
Can-Am Maverick Sport 1000R DPS MAX : 2019+
NOTE: Does not fit XMR, XRC, or XXC models.
Features, From the Manufacturer:
Adds 1.5" of forward offset
Fit up to 34" tires
1.25" tubing is 25% larger than stock
Adjustable lower pivot block for full camber adjustability
Includes high-quality UHMW bushings at no extra cost
UV-resistant powder coat finish
Easy to install
Come with Heavy Duty 4340 Chromoly steel ball joints – ball joints may vary from design shown in images.
Shipping – Signature Confirmation:
**Signature confirmation delivery may be added to this order.
Additional information
| | |
| --- | --- |
| Condition | Used |
| Notes | "Used," Excellent Condition. This is a customer-returned "Scratch 'n Dent" item. Please see the "Scratch 'n Dent" section at the bottom of this listing's description for more information about this type of product. |