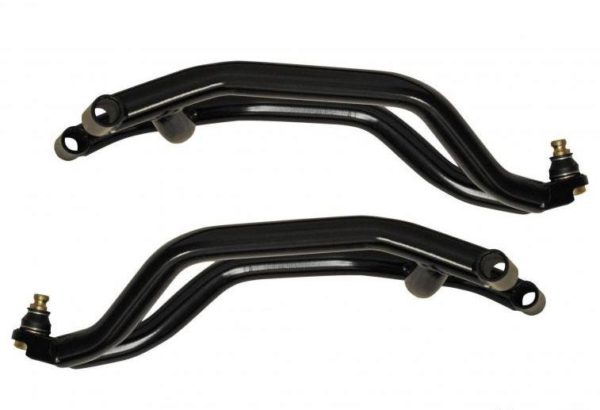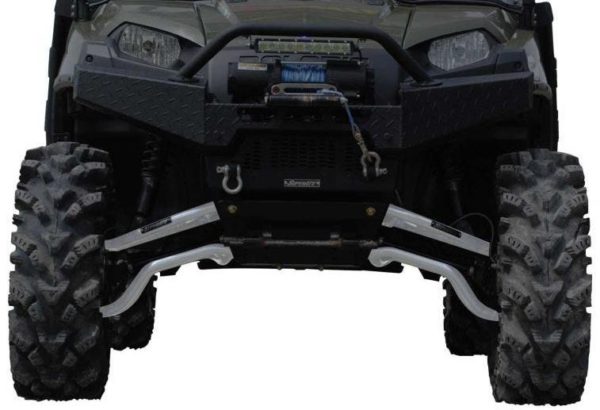 SuperATV High Clearance 1″ Fwd Offset A-Arms for Polaris Ranger 500 700 800 900
$535.28
Out of stock
Description
Description from the Manufacturer:
These A-Arms Won't Let You Down
It doesn't matter where, when, or how you ride—we can all agree on one thing: more ground clearance and a stronger suspension is always a good thing. That's exactly what you get when you install SuperATV's High Clearance 1" Forward Offset A-Arms on your Polaris Ranger 800. Our A-arms are bigger and stronger than your stock arms, so you'll never have to worry about taking it easy for their sake. The 1" forward offset give you more stability and room for bigger tires, and you can even adjust your camber as needed. If you want a suspension upgrade that's built to perform and won't let you down, you need SuperATV.
More Clearance and Bigger Tires
We design these control arms with a unique bend design that gives you 2" of additional ground clearance, so you can clear those obstacles that used to take you down. As if that weren't enough, they also have a 1" forward offset. By extending the wheelbase 1", you get more stability when crossing rough terrain. A forward offset also gives you room for bigger tires. More ground clearance and bigger tires without even adding a lift kit? We'll take it!
A Stronger, Smarter Design
These A-arms come in a sleek, tubed design that really helps your Ranger stand out in a crowd. In addition to looking awesome, our A-arms are also super strong. We use 1.25" tubing, which is 25% stronger than stock, and then add a powder-coated finish to make it last even longer. From the materials to the design, SuperATV's High Clearance A-Arms are made to keep you riding longer.
Industry-Leading Adjustable Pivot Blocks
Our use of industry-leading adjustable pivot blocks allows you to adjust your alignment and maintain perfect camber, no matter where or how you ride. Being able to adjust your camber as needed can eliminate the premature tire wear that usually comes along with adding a lift kit or bigger tires. If you don't want to mess with your pivot blocks, don't worry! We pre-adjust them to stock specifications right out of the box, so you only need to make adjustments if you want to.
Fitment from the Manufacturer:
Polaris Ranger XP 800 : 2010-2014
Polaris Ranger XP 800 Crew : 2010-2014
Polaris Ranger 800 6×6 : 2010-2016
Polaris Ranger 700 : 2009
Polaris Ranger 900 Diesel : 2011-2014
Polaris Ranger 900 Diesel Crew : 2012-2014
Polaris Ranger Full-Size 500 : 2009-2010
Features from the Manufacturer:
Adds 1.5" of forward offset
Fit up to 28" tires
1.25" tubing is 25% larger than stock
Adjustable pivot blocks for full camber adjustability
Utilizes stock A-arm bushings
UV-resistant powder coat finish
Easy to install
Come with Standard Duty Ball Joints
Manufacturer Part Number:
AA-P-RAN-09XP-HC-BS-02
Additional information
| | |
| --- | --- |
| Condition | Used |
| Notes | Used, very good. Customer returned item. |
Only logged in customers who have purchased this product may leave a review.