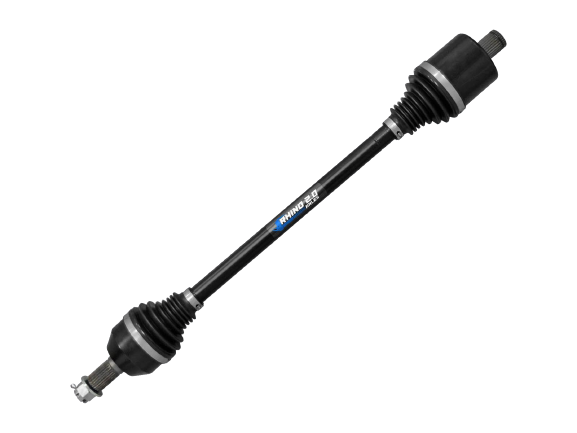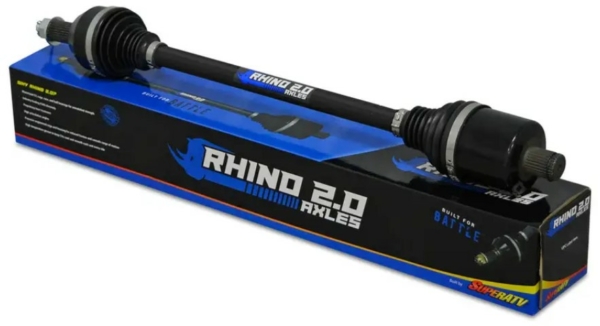 SuperATV Rhino 2.0 Heavy Duty Front Axle for Polaris Sportsman – See Fitment
Out of stock
Description
Manufacturer SKU:
AX-1-68-F-0-DT
Item Condition:
"Open-Box" Excellent condition. This is a customer-returned "Scratch 'n Dent" item. Please see the "Scratch 'n Dent" section at the bottom of this listing's description for more information about this type of product.
Axles are typically returned because they were accidentally ordered for the incorrect machine. May have scratches, dings, and or scuffs from shipping.
Item Description, From the Manufacturer:
Better with Rhino 2.0
Your Sportsman XP is all about maximizing power on a small frame. If you really want to use that power, you need parts that can handle it. That's where SuperATV's Heavy-Duty Rhino 2.0 Axles for the Polaris Sportsman come in. They're much stronger than stock and have oversized CV joints for higher articulation. They're durable, they're powerful, and they're exactly what your ATV needs to ride hard for years.
Unbeatable Strength
We don't cut corners on strength. That's why Rhino 2.0 is made with chromoly steel from end to end including in our maximized CV joints and bigger shaft. These joints are capable of running at incredibly high angles without overheating or binding so you can ride fast over rough, uneven terrain without destroying your axles. It's all part of the Rhino 2.0 formula.
Bigger shaft diameter
End-to-end chromoly construction
Proprietary heat treatment
Designed and Tested at SuperATV
Rhino 2.0 is designed and tested right here at SuperATV. When you buy from us, you're buying from the engineers, lab technicians, and riders who have pulled together decades of experience to make the best possible ATV axle. With cutting-edge CAD software and leading testing equipment, you know you're getting a precision-built axle that will stand up against the most demanding rides.
Vehicle Fitment, From the Manufacturer:
Polaris Sportsman XP 1000 : 2015+
Polaris Sportsman Touring XP 1000 : 2015+
Polaris Sportsman Highlifter XP 1000 : 2016+
Polaris Sportsman XP 1000 48″ Trail : 2019+
Polaris Sportsman XP 1000 Hunter Edition 48″ : 2020+
Polaris Sportsman Touring XP 1000 48″ : 2020+
Polaris Sportsman X2 XP 850 : 2011
Polaris Sportsman SP XP 850 : 2015+
Polaris Sportsman Touring XP 850 : 2011+
Polaris Sportsman Highlifter XP 850 : 2016+
Polaris Sportsman XP 850 48″ Trail : 2020+
Polaris Sportsman Touring XP 850 48″ : 2020+
Polaris Scrambler XP 850 : 2013+
Polaris Scrambler XP 1000 : 2014-2018
Polaris Sportsman XP 550 : 2011-2014
Polaris Sportsman Forest XP 550 : 2011-2014
Polaris Sportsman X2 XP 550 : 2011-2014
Polaris Sportsman Touring XP 550 : 2011-2014
Replacement for OE#s:
Front: 1332873, 1332383, 2203843, 2203844, 1333802, and 1333431
Features, From the Manufacturer:
Stronger than stock
Made with 4340 chromoly steel
Proprietary heat treatment for superior strength and longevity
Operates at high CV angles
Field and lab tested for extreme strength and endurance
Additional information
| | |
| --- | --- |
| Condition | New other |
| Notes | "Open-Box" Excellent condition. This is a customer-returned "Scratch 'n Dent" item. Please see the "Scratch 'n Dent" section at the bottom of this listing's description for more information about this type of product. |