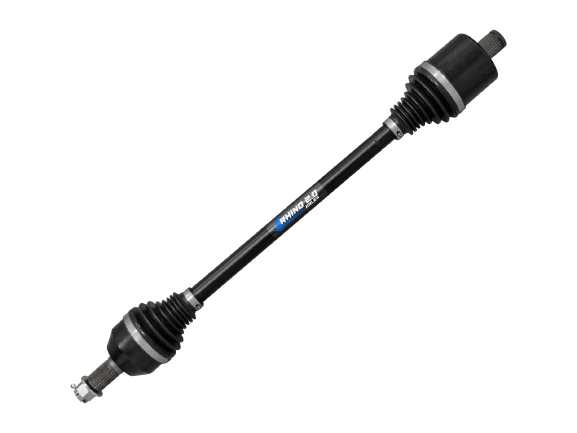 SuperATV Rhino 2.0 Heavy Duty REAR Big Lift Axle for Polaris General RZR 1000
$225.21
In stock
Description
Item Condition:
Used, Very Good Condition! May have minor cosmetic blemishes from packaging.
You will only receive the parts that are shown in this listing's pictures. UTVs is not included. You are purchasing a part for a UTV. 
Vehicle Fitment:
From the Manufacturer:
Polaris RZR 900 : 2015+
Polaris RZR 4 900 : 2015-2018
Polaris RZR S4 900 : 2018
Polaris RZR S 900 : 2015+

Polaris RZR 900 XC : 2015-2017

Polaris RZR XP 1000 : 2014+
Polaris RZR XP 1000 High Lifter Edition : 2016+
Polaris RZR XP 1000 Rocks & Trails Edition : 2017+
Polaris RZR XP Turbo : 2016+

Polaris RZR XP 4 1000 : 2014+

Polaris RZR XP 4 Turbo : 2016+
Polaris RZR S 1000 : 2016+
Polaris General : 2016+
Polaris General 4 : 2017+
NOTE:
Not compatible with Anti-Lock Brake Systems (ABS)
Rear axles may require minor grinding on Turbo models. See instructions.
Does not fit Polaris General XP 1000 : 2020+
Features:
From the Manufacturer:
Experience the Rhino Revolution. SuperATV takes over 10 years of axle and suspension experience and delivers to you the next generation of Rhino Axles – Rhino 2.0. What can 100% stronger do for you? This revolutionary axle gives you the confidence to tackle the toughest of terrains without the ping of overspending. Rhino 2.0 is unmatched in the heavy-duty axle segment with its winning combination of maximized CV and components and SuperATV's proprietary mixture of materials and heat treatment.
Rhino 2.0: Factory Engineered and Tested
With SuperATV's Rhino 2.0 you're buying directly from the designers, testers, engineers, and manufacturers. When it comes to your machine, dealing directly with the experts rather than someone who puts their brand on an off-the-shelf item is vital. Each axle is precision engineered using the latest CAD technology. What does this do for you? SuperATV is able to run real life simulations, ranging from 80+ mph desert racing, high-angle and monster tire mud rides, and ultimate rock crawling smack downs. SuperATV's state of the art testing equipment allows for axle designs that require no break in periods and no risk of overheating due to metallurgical failures.
At SuperATV, we've spent hours in the lab and on the trails working tirelessly to perfect the Rhino 2.0 formula. For Rhino 2.0 we focused on two primary areas: 1 – overall strength and 2 – longevity. The decisions we made were focused around getting you a super strong axle that would last you mile after mile. We use a high-strength 4340 chromoly steel that is then meticulously heat treated to our exact formula. This balanced combination of design and technology gives Rhino the impressive ability to absorb energy without breaking – giving you a part that can withstand zero to crazy and absorb the stress without compromising the product. Another important property of 4340 is its high twist yield. Rather than worrying about whether this axle will break other components, we've designed each shaft to have yield properties that allow it flex and return back to its regular state – a much better option over breaking differentials.
100% stronger than stock
Utilizes the Rhino 2.0 Formula
Size
Materials
Heat Treatment
Constructed of 4340 chromoly steel
CAD drawn for expert precision

Additional information
| | |
| --- | --- |
| Condition | Used |
| Notes | Used, Very Good Condition! May have minor cosmetic blemishes from the packaging. |