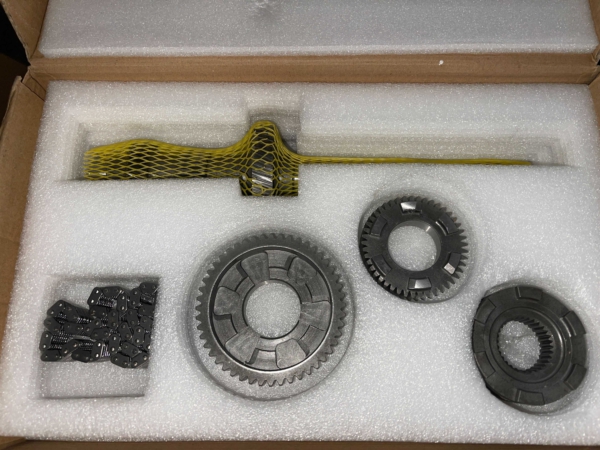 SuperATV High Gear Kit for Polaris Ace 570/900 see fitment
$629.96
Out of stock
Description
Manufacturer SKU:
HG01-002
Description from the Manufacturer:
Give your Polaris Ace a serious upgrade with this High Gear Kit by SuperATV. This kit offers you a noticeable increase in speed and acceleration.
Get More Speed
Whether you call them high gears, overdrive gears, or just the stuff that makes you go fast, you can count on our gears to make your Polaris ACE perform. It comes paired with a custom clutch kit to give you a 27% speed increase. We make it easier to hit those high speeds that make every ride white knuckle.
Lower RPMs = Less Wear and Tear
What do higher gears mean for you? It means more than just going a lot faster. With our kit, you can cruise at highway speed with lower RPMs and less wear and tear on your machine. Belts last longer, and it's an overall performance booster whether you plan on pinning the needle or cruising down the trail.
Clutch Kit Features:
Gives you a 27% speed increase
Reduces RPMs at mid to high range
Changes overall gear ratio from approx. 12:1 to 8:1
Made with hardened 8620 chromoly steel
Affects high range gear ratio only
Product Fitment
RZR Vehicle (2 Seater) No
RZR 4 Vehicle (4 Seater) No
Polaris RZR RS1 No
Polaris ACE Vehicle

2020 Polaris ACE 570
2020 Polaris ACE 900
2019 Polaris ACE 900
2019 Polaris ACE 570
2018 Polaris ACE 900
2018 Polaris ACE 570
2017 Polaris ACE 900
2017 Polaris ACE 570

RZR 170 (Youth) No
Polaris ACE 150 (Youth) No
Shipping – Signature Confirmation:
**Signature confirmation delivery may be added to this order.
Only logged in customers who have purchased this product may leave a review.