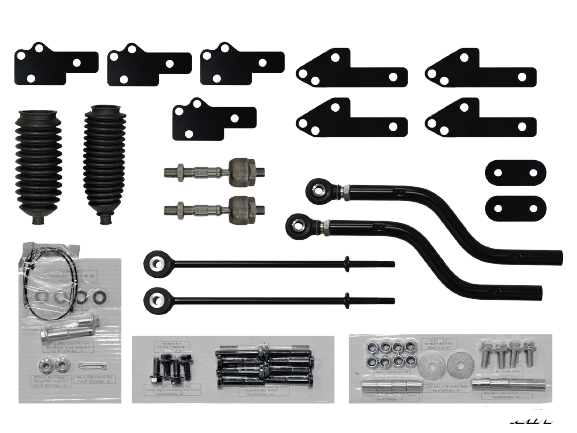 SuperATV 2" Lift Kit for Polaris Ranger Models – See Fitment
$237.96
In stock
Description
DETAILS
A True 2" Lift
If you find yourself going around small obstacles more often than you go over them, it might be time to think about making some changes to your Polaris Ranger. SuperATV's 2" Lift Kit gives you extra ground clearance and the ability to run bigger tires. This lift kit measures true to size, giving you a full two inches of additional clearance and allowing you to sail right over those obstacles that used to leave you caught up.
Get Lifted and Do More
If you're wondering what 2" of extra ground clearance can do for you, the possibilities are endless. You'll be able to tackle more rugged terrain, cross over larger obstacles with ease, and go through bigger mud pits without any issues. Using that extra clearance to increase your tire size raises the bar even more, giving you the ability to always choose the trail less traveled.
Designed for Long-Lasting Strength
This suspension lift kit utilizes powder-coated steel brackets to ensure long-lasting strength. It was designed by off-road enthusiasts just like you, so you can trust that it's built to perform. Our simple bolt-on installation process is quick and easy, so you can spend less time slinging tools and more time slinging mud.We believe so strongly in the reliability of this lift kit that we're selling it with a lifetime warranty. So ride as hard as you want to—SuperATV will be here whenever you need us. Smooth Handling
Our team of experts blend precision engineering with decades of experience to give you a lift that doesn't ruin your turning radius. For a reliable lift coupled with smooth handling, you need SuperATV.
Polaris Ranger Kit Includes:
(8) Large spacers
Differential spacers kit
(2) Z-bend tie rods
(4) Front shock mounting brackets
(4) Rear shock mounting brackets
(2) Sway bar links
All required hardware
FITMENT
Polaris Ranger 500 : 2009-2008
Polaris Ranger XP 800 : 2010-2014
Polaris Ranger XP 800 Crew : 2010-2014
Polaris Ranger 900 Diesel : 2011-2014
Polaris Ranger 900 Diesel Crew : 2012-2014
NOTE:
If you are using 12″ wheels, this kit will require 1″ front wheel spacers
This kit will not work on a Ranger HD
FEATURES
2″ of lift
Run up to 27" tires
High-strength CNC laser cut and brake press bent steel brackets
Maintains steering radius and suspension travel
Bolt-on design makes for an easy installation
Only logged in customers who have purchased this product may leave a review.