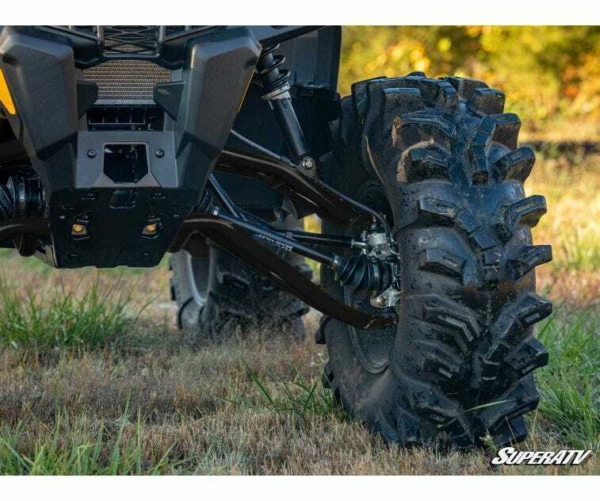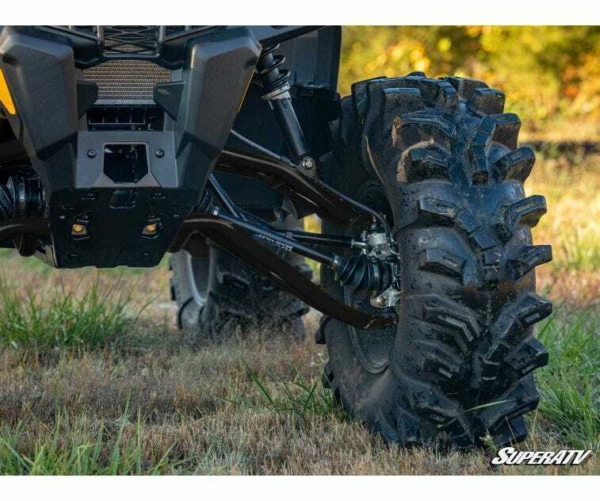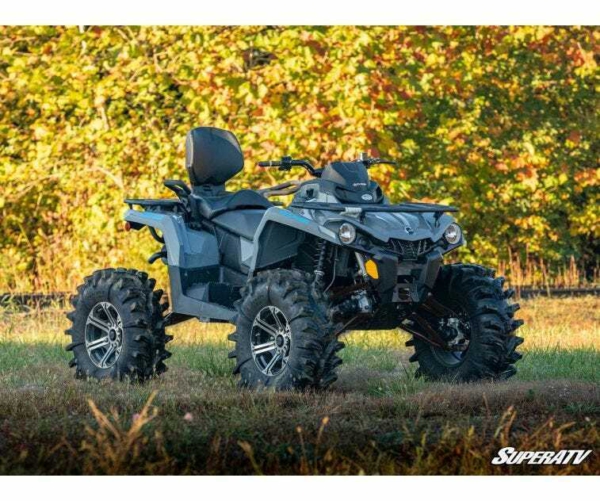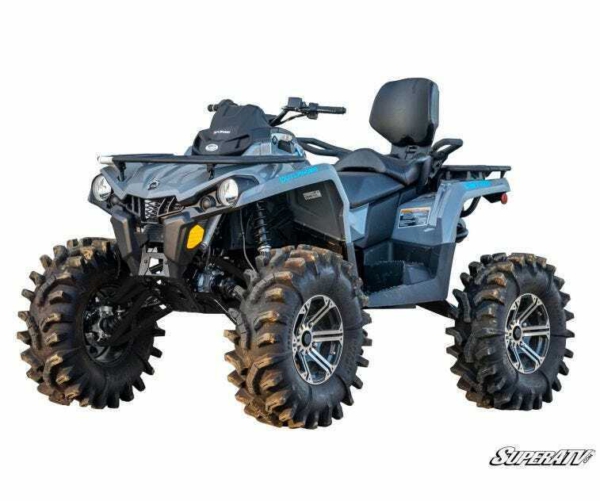 SuperATV Can-Am Outlander Gen 2 Partial 6 Inch Lift Kit for Front A-Arms Only
$1,682.96
Out of stock
Description
‏THIS IS A PART OF A COMPLETE KIT, NOT THE ENTIRE LIFT KIT
IDEAL FOR SOMEONE WHO HAS THIS KIT AND BROKE THEIR FRONT A-ARMS OR WANTS A SPARE SET
THIS KIT Does not include ball joints
THIS KIT DOES NOT INCLUDE Rear trailing arms
THIS IS FOR THE FRONT A-ARMS ONLY, and the hardware kit for the front
---
Manufacturers Description:
Innovation that performs. SuperATV's Outlander 6 lift kit is precision engineering to withstand the toughest riding conditions time and time again. With this kit, you get the industry's most advanced kit on the market. When you want to fly high, ride deep, or go steep you want SuperATV.
What sets the Can-Am ATV suspension lift apart from other kits? Utilizing the industry's first Pivot Joint, SuperATV offers full toe, caster, camber adjustability without the hassle and maintenance of the traditional heim joint. With simple thread adjustment, you can easily manipulate ride settings to your personal riding style.
Keep your ATV reactive. SuperATV understands the importance of maintaining factory steering alignment and our Outlander kit leaves nothing to be desired.
Engineered with extreme performance in mind, the Can-Am Outlander 6 lift extends your wheel base by a full 5.5 – 1.5 of forward offset for a smooth ride and longer wheel base allowing you to climb steeper hills and hit bigger jumps.
Fitment (from the manufacturer):
Fits

NON-XMR

models below:
Can-Am Outlander 1000R : 2018
Can-Am Outlander 1000 XT : 2012-2018
Can-Am Outlander 1000 XT-P : 2013-2018
Can-Am Outlander 1000 : 2012-2018
Can-Am Outlander 850 : 2018
Can-Am Outlander 800R : 2012-2018
Can-Am Outlander 800R DPS : 2012-2018
Can-Am Outlander 800R XT : 2012-2018
Can-Am Outlander 800R XT-P : 2012-2018
Can-Am Outlander 650 : 2013-2015-2018
Can-Am Outlander 650 DPS : 2013-2018
Can-Am Outlander 650 XT : 2013-2018
Can-Am Outlander 650 XT-P : 2013-2018
Can-Am Outlander 570 : 2018
Can-Am Outlander 500 : 2013-2018
Can-Am Outlander 500 DPS : 2013-2018
Can-Am Outlander 500 XT : 2013-2018
Can-Am Outlander 450 : 2018
Can-Am Outlander L 450 : 2015-2018
Can-Am Outlander L 500 : 2015-2018
Can-Am Outlander L 570 : 2016-2018
Can-Am Outlander Max 1000 : 2013-2018
Can-Am Outlander Max 1000 DPS : 2013-2018
Can-Am Outlander Max 1000 XT : 2013-2018
Can-Am Outlander Max 1000 XT-P : 2013-2018
Can-Am Outlander Max 800R DPS : 2013-2018
Can-Am Outlander Max 800R XT : 2013-2018
Can-Am Outlander Max 800R XT-P : 2013-2018
Can-Am Outlander Max 650 : 2013-2015-2018
Can-Am Outlander Max 650 DPS : 2013-2018
Can-Am Outlander Max 650 XT : 2013-2018
Can-Am Outlander Max 570 : 2018
Can-Am Outlander Max 500 : 2013-2018
Can-Am Outlander Max 500 DPS : 2013-2018
Can-Am Outlander Max 500 XT : 2013-2018
Can-Am Outlander Max 450 : 2018
Can-Am Outlander L Max 450 : 2015-2018
Can-Am Outlander L Max 500 : 2015-2018
Can-Am Outlander L Max 570 : 2016-2018

NOTE: Does not work with factory air shocks
Features From the Manufacturer:
Front A-arms Only
1-1/4 thick DOM tubing
1.5 forward offset high-clearance

DOES NOT

include tie rods

DOES NOT

include ball joints

DOES NOT

include rear trailing arms

DOES NOT

include axles
5″ Increase In front track width
Run up to 36 tires (shown with Terminator Tires size 36×10-18)
Additional information
| | |
| --- | --- |
| Condition | Used |
| Notes | Like new open box |