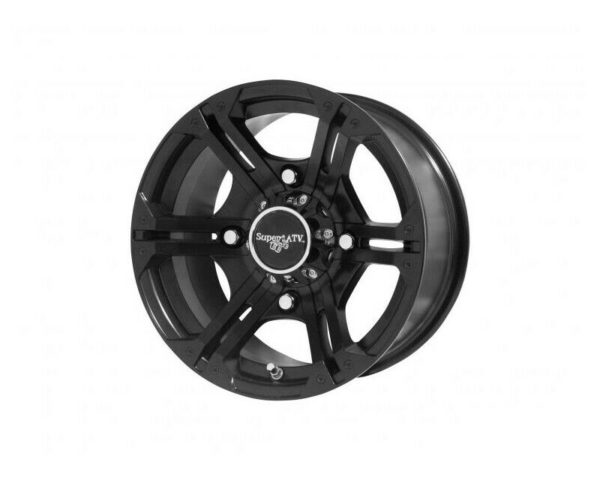 SuperATV 14" H-Series Black Bandit Wheel for Polaris 4/156 Bolt Pattern – 14×7
$91.96
Out of stock
Description
Item Condition:
Like new, open box. May have minor, cosmetic blemishes. It does not come with lug nuts.
You will only receive the parts that are shown in this listing's pictures. UTVs is not included. You are purchasing a part for a UTV. 
Vehicle Fitment:
Will fit other lug sizes if using factory lug nuts.
Bolt Pattern: 4/156
Stud Size: M12x1.5 or 3/8×24 lugs
Polaris Ranger XP 1000 : 2017+
Polaris Ranger XP 1000 Crew : 2017+
Polaris Ranger 1000 Diesel : 2015-2018
Polaris Ranger 1000 Diesel Crew : 2015-2018
Polaris Ranger 500 : 2009-2010
Polaris Ranger 700 : 2009
Polaris Ranger XP 800 : 2010-2014
Polaris Ranger XP 800 Crew : 2010-2014
Polaris Ranger XP 800 6×6 : 2010-2016
Polaris Ranger Midsize 500 : 2017+
Polaris Ranger Midsize 570 : 2015+
Polaris Ranger Midsize 570 Crew : 2015+
Polaris Ranger Full-Size 570 : 2016+
Polaris Ranger XP 570 : 2015-2016
Polaris Ranger XP 570 Crew : 2015-2016
Polaris Ranger XP 900 : 2013+
Polaris Ranger XP 900 Crew : 2014+
Polaris Ranger EV : 2015+
Polaris Ranger ETX : 2015+
Polaris RZR 800 : 2008-2014
Polaris RZR 800 S : 2009-2014
Polaris RZR 4 800 : 2010-2014
Polaris RZR 900 XC : 2015-2017
Polaris RZR S 900 : 2015+
Polaris RZR 4 900 : 2015-2018
Polaris RZR S4 900 : 2018
Polaris RZR XP 900 : 2011-2014
Polaris RZR XP 4 900 : 2011-2014
Polaris RZR 1000 S : 2016+
Polaris RZR 1000 S4 : 2019+
Polaris RZR XP 1000 : 2014+
Polaris RZR XP 4 1000 : 2014+
Polaris RZR XP Turbo : 2016+
Polaris RZR XP 4 Turbo : 2016+
Polaris RZR XP Turbo S : 2018+
Polaris RZR XP 4 Turbo S : 2019+
Polaris RZR PRO XP : 2020+
Polaris RZR PRO 4 XP : 2020
Polaris Sportsman 450 : 2016+
Polaris Hawkeye 400 : 2011-2014
Polaris Scrambler 500 : 2005-2012
Polaris Sportsman 500 : 2006-2013
Polaris Sportsman Forest 500 : 2011-2013
Polaris Sportsman 500 Touring : 2008-2013
Polaris Sportsman X2 500 : 2007-2009
Polaris Sportsman 400 : 2011-2014
Polaris Sportsman 570 : 2014+
Polaris Sportsman Forest 570 : 2014-2015
Polaris Sportsman X2 570 : 2015+
Polaris Sportsman SP 570 : 2015+
Polaris Sportsman 570 Touring : 2014+
Polaris Sportsman 800 : 2005-2014
Polaris Sportsman Forest 800 : 2012-2013
Polaris Ace : 2014+ (All models)
Textron Wildcat XX : 2019+
Arctic Cat Wildcat XX : 2020+
Does not fit the following:
Polaris Scrambler XP 850 : 2009-2019
Polaris Scrambler XP 1000 : 2014-2018
Polaris Sportsman 850 Touring : 2010+
Polaris Sportsman 850 High Lifter : 2016+
Polaris Sportsman 850 SP : 2015+
Polaris Sportsman Forest 850 : 2011-2014
Polaris Sportsman X2 850 : 2011
Polaris Sportsman 850 Premium Trail Package : 2020+
Polaris Sportsman 1000 High Lifter : 2015+
Polaris Sportsman XP 1000 : 2015-2018
Polaris Sportsman 1000 XP 48 : 2019+
Polaris Sportsman 1000 XP 48 Trail Package : 2020+
Polaris Sportsman 1000 Touring : 2015+
Polaris Sportsman 550 : 2010-2014
Polaris Sportsman Forest 550 : 2011-2014
Polaris Sportsman 550 Touring : 2010-2014
Polaris Sportsman X2 550 : 2010-2014
Polaris Sportsman XP 550 : 2009-2013
Features:
4/156 bolt pattern
Fits M12x1.5mm or 3/8×24 lugs
7" wide
4.5″ back-spacing (sticks out 2.5″ past the hub)
Includes metal valve stem
Cast aluminum construction
Additional information
| | |
| --- | --- |
| Weight | 16.50 lbs |
| Dimensions | 16 × 9 × 16 in |
| Fits | |
| Modified Item | |
| Custom Bundle | |
| Manufacturer Part Number | |
| Brand | |
| Non-Domestic Product | |
| Warranty | |
| | |
| --- | --- |
| Condition | New other |
| Notes | Like new, open box. |