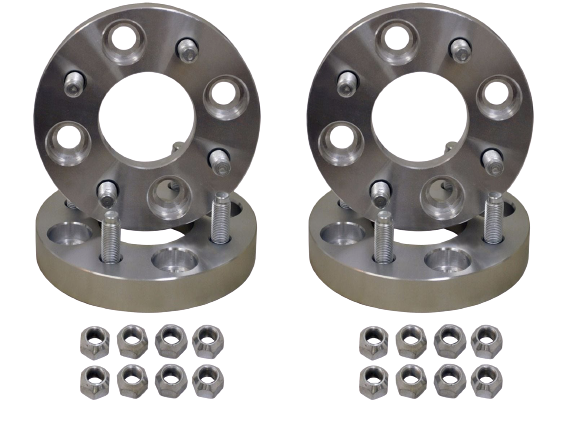 SuperATV 1″ M10x1.25 4/137 to 4/110 Wheel Adapter for Can-Am – Set of 4
$143.96
Description
Manufacturer SKU:
WSK4
Adapts M10x1.25 4/137 hubs to M10x1.25 wheels
Includes Lug Nuts
Set of 4 Adapters
Acts as a 1″ Spacer
Item Condition:
"Open Box" Like-New Condition. This is a customer-returned "Scratch 'n Dent" item. Please see the "Scratch 'n Dent" section at the bottom of this listing's description for more information about this type of product.
Wheel Adapters are typically returned because they were accidentally purchased for the incorrect machine. Items may have scratches and/or scuffs from shipping.
Description From the Manufacturer:
1″ Wheel Adapters
Converts:
Adapts 4/137 OE bolt pattern to a 4/110 wheel.
Thread pitch: M10 x 1.25
2 pairs (4 adapters total)
SuperATV wheel adapters are designed to increase stability and enhance wheel fitment. Wheel adapters convert your current OE bolt pattern to an alternative bolt pattern for use with aftermarket wheels.
These heavy-duty adapters will withstand the largest tires, torque, twisting, and flexing one can throw at them.
Features From the Manufacturer:
Adapts 4/137 OE bolt pattern to a 4/110 wheel
Thread pitch: M10 x 1.25
1″ thick
Sold as a set of (4)
Each pair includes pre-installed wheel studs and nuts
Extremely durable
Coverts OE bolt pattern to alternative bolt pattern
Additional information
SuperATV 1" M10x1.25 4/137 to 4/110 Wheel Adapter for Can-Am Kawasaki - Set of 4
| | |
| --- | --- |
| Condition | New other |
| Notes | "Open Box" Like-New Condition. This is a customer-returned "Scratch 'n Dent" item. Please see the "Scratch 'n Dent" section at the bottom of this listing's description for more information about this type of product. |