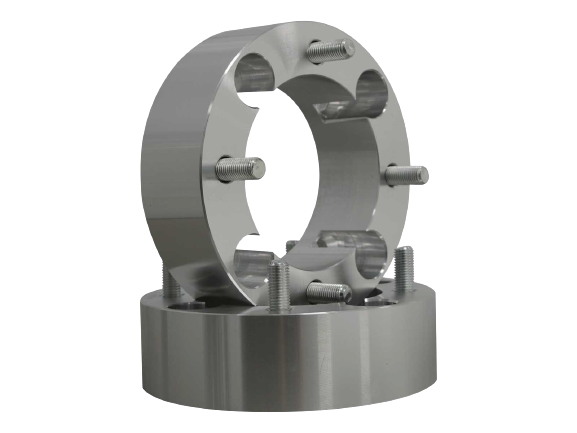 SuperATV 2 Inch Wheel Spacers for Polaris Scrambler Sportsman 450 570 800 Forest
$84.96
Description
Manufacturer SKU:
WSP4
2″ Spacer (not an adapter)
4/156 bolt pattern
3/8 x 24 thread pitch
Item Condition:
"Open Box" Like-New Condition. This is a customer-returned "Scratch 'n Dent" item. Please see the "Scratch 'n Dent" section at the bottom of this listing's description for more information about this type of product.
Wheel Spacers are typically returned because they were accidentally purchased for the incorrect machine. Items may have scratches and/or scuffs from shipping.
Description From the Manufacturer:
Stops Rubbing and Adjusts Wheel Offset
Sometimes you get a set of wheels you love in an offset that you don't, or you get tires that are just a little too wide. That can lead to tires rubbing on shocks and premature wear where you don't want it. SuperATV's Wheel Spacers give you more room, correct your wheel offset, and stop rubbing. They're a proven fix that won't mess with your wheel travel or your camber.Polaris 4/156 Wheel Spacers
A set of 4/156 wheel spacers installed on your Polaris ATV or UTV gives it more stability without requiring a major suspension overhaul. These 6061 billet aluminum wheel spacers are bulletproof and come with a lifetime warranty. You can get 1.25 inches, 1.5 inches, or 2 inches of extra width per side for more stability and clearance. There's no easier upgrade than adding a set of wheel spacers.
Bobcat Wheel Spacers
4/156 mm bolt pattern : Bobcat 3400 Series
3/8″ x 24 wheel studs
1 pair
Give your machine increased stability with a new pair of Wheel Spacers from SuperATV. Constructed of 6061 aluminum, these spacers are Built for BattleTM!
NOTE: Sold in pairs
Fitment From the Manufacturer:
Lug Stud Size : 3/8 x 24
Polaris 450 Farmhand : 2017
Polaris 450 2X4 : 2016
Polaris Ace 900 : 2016+
Polaris Ace 325 : 2015-2016
Polaris Ace 500 : 2017+
Polaris Ace 570 : 2015+
Polaris Hawkeye 2X4/4X4 : 2007
Polaris Hawkeye 325 : 2015
Polaris Hawkeye 400 : 2011-2014
Polaris LSV : 2011-2012
Polaris Ranger EV : 2010+
Polaris Ranger 500 : 2009-2012
Polaris Ranger 500 Midsize : 2012+
Polaris Ranger 500 Midsize Crew : 2012-2013
Polaris Ranger 400 Midsize : 2010-2014
Polaris Ranger 570 Midsize : 2011-2021
Polaris Ranger 570 Crew Midsize : 2011-2021
Polaris Ranger 570 : 2016+
Polaris Ranger 570 Crew : 2016+
Polaris Ranger 700 : 2006-2009
Polaris Ranger 700 Crew : 2008-2009
Polaris Ranger 800 : 2010-2014
Polaris Ranger 800 Crew : 2010-2014
Polaris Ranger 900 Diesel : 2011-2014
Polaris Ranger 900 Diesel Crew : 2012-2014
Polaris RZR 570 : 2012+
Polaris RZR 570 S : 2017
Polaris RZR 800 : 2008-2014
Polaris RZR S 800 : 2009-2014
Polaris RZR 4 800 : 2011-2014
Polaris RZR XP 900 : 2011-2014
Polaris RZR XP 4 900 : 2011-2014
Polaris Scrambler 500 : 2005-2012
Polaris Sportsman 450 : 2016+
Polaris Sportsman 570 : 2014+
Polaris Sportsman 570 6X6 : 2017+
Polaris Sportsman 800 6X6 : 2009-2014
Polaris Sportsman Forest 500 : 2011-2014
Polaris Sportsman Forest 570 : 2014-2015
Polaris Sportsman Forest 800 : 2012-2014
Polaris Forest 800 6X6 : 2014-2015
Polaris Trail Blazer 330 : 2005-2012
Polaris Trail Boss 330 : 2005-2012
Polaris Military Sportsman 800 : 2012, 2015-2016
Polaris Military Diesel Ranger : 2011-2014
Polaris Military Ranger Crew : 2010-2011
Polaris Military RZR S : 2009-2014
Polaris Military MVRS 700 : 2010
Bobcat 3400: 2010+
Features From the Manufacturer:
Heavy-duty design
Adds stability
6061 aluminum construction
Additional information
| | |
| --- | --- |
| Condition | New other |
| Notes | "Open Box" Like-New Condition. This is a customer-returned "Scratch 'n Dent" item. Please see the "Scratch 'n Dent" section at the bottom of this listing's description for more information about this type of product. |