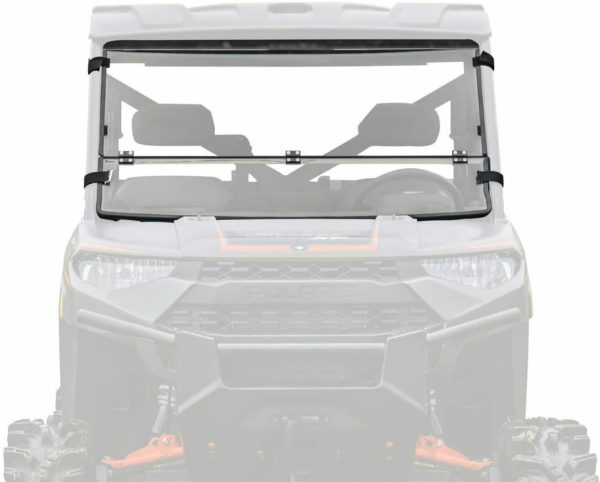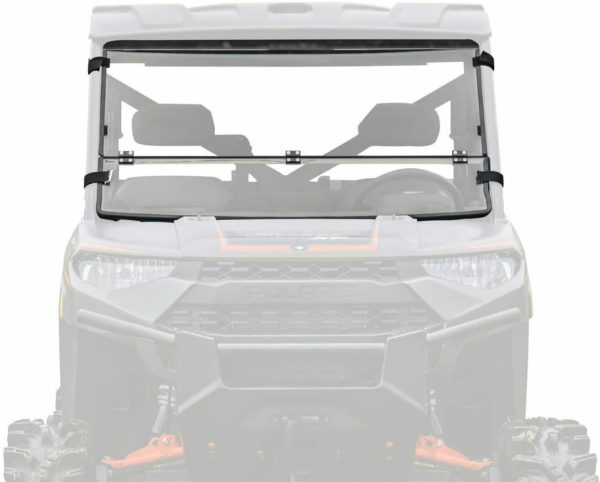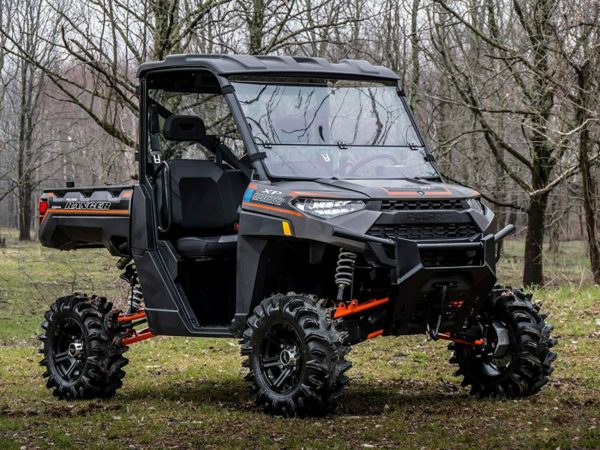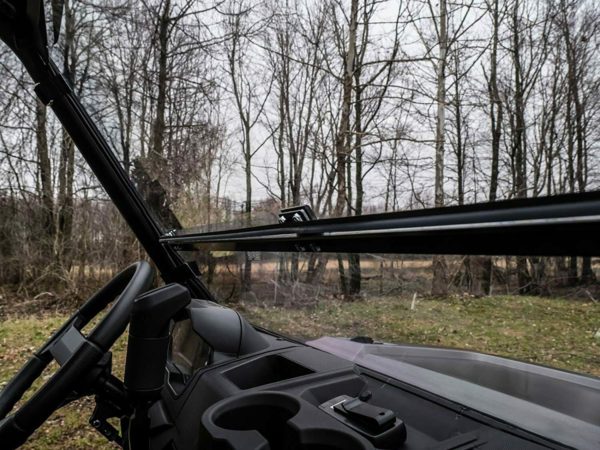 SuperATV Clear Flip Down Windshield for Polaris Ranger XP 570/900/1000/Crew
$251.96
Out of stock
Description
Manufacturer SKU:
FDWS-P-RAN1K-75
Item Condition:
"Used," Excellent Condition. This is a customer-returned "Scratch 'n Dent" item. Please see the "Scratch 'n Dent" section at the bottom of this listing's description for more information about this type of product.
Windshields are typically returned because they were accidentally purchased for the incorrect machine. Items may have scratches and/or scuffs from shipping.
Description From the Manufacturer:
Ride All Year Round
Take your Polaris Ranger XP 1000 out for a spin every day of the year with SuperATV's Scratch Resistant Flip Down Windshield. Our flip down windshield lets you switch between full protection and full airflow on the fly. Whether it's rainy, snowy, or getting hot, you can stay comfortable.
Installation Is a Breeze
Our windshield comes with the hinges preinstalled, so all you have to do install the included bulb seals and gaskets, and strap it to the cage. No drilling required. It takes only minutes to get ride ready again. It's tight and secure, so you get a snug, rattle-free fit no matter how bumpy the road gets.
Polycarbonate Construction
If you want a robust off-road windshield that's as tough as your side-by-side, you need polycarbonate. It's 250 times stronger than glass so it'll stand up to rough conditions and rough rides. Forget about rocks and branches getting into your cab—polycarbonate is virtually indestructible.
The Windshield Experts
We know what we're doing—we've manufactured and sold over 150,000 windshields already. They're field tested and proven by a worldwide community of riders just like you. If you want to make sure you get a windshield that you can trust, choose SuperATV.
Fitment From the Manufacturer:
Polaris Ranger XP 570 (PRO-FIT Cab) : 2015-2016
Polaris Ranger XP 570 Crew (PRO-FIT Cab) : 2015-2016
Polaris Ranger XP 900 : 2013+
Polaris Ranger XP 900 Crew : 2014+
Polaris Ranger 1000 : 2020+
Polaris Ranger 1000 Crew : 2020+
Polaris Ranger XP 1000 : 2017+
Polaris Ranger XP 1000 Crew : 2017+
Polaris Ranger XP 1000 High Lifter Edition : 2017+
Polaris Ranger XP 1000 High Lifter Edition Crew : 2017+
Polaris Ranger XP 1000 NorthStar Edition : 2017+
Polaris Ranger XP 1000 NorthStar Edition Crew : 2017+
Polaris Ranger XP 1000 Back Country Edition : 2019
Polaris Ranger XP 1000 Back Country Crew Edition : 2019
Polaris Ranger XP 1000 Texas Edition : 2020+
Polaris Ranger XP 1000 Texas Edition Crew : 2020+
Polaris Ranger 1000 Diesel : 2015-2018
Polaris Ranger 1000 Diesel Crew : 2015-2018
Polaris Ranger XP 1000 Trail Boss : 2021+
Polaris Ranger XP 1000 Trail Boss Crew : 2021+
Polaris Ranger XP 1000 Waterfowl Edition : 2021+
Polaris Ranger XP 1000 Waterfowl Edition Crew : 2021+
Polaris Ranger XP 1000 Big Game Edition : 2021+
Polaris Ranger XP 1000 Big Game Edition Crew : 2021+
Features From the Manufacturer:
Switch between a full and a half windshield
Made of 1/4" polycarbonate—250x stronger than glass and 25x stronger than acrylic
Fits the contours of your cage and hood perfectly
Comes preassembled for easy installation
Made in the USA
Additional information
| | |
| --- | --- |
| Condition | Used |
| Notes | "Used," Excellent Condition. This is a customer-returned "Scratch 'n Dent" item. Please see the "Scratch 'n Dent" section at the bottom of this listing's description for more information about this type of product. |