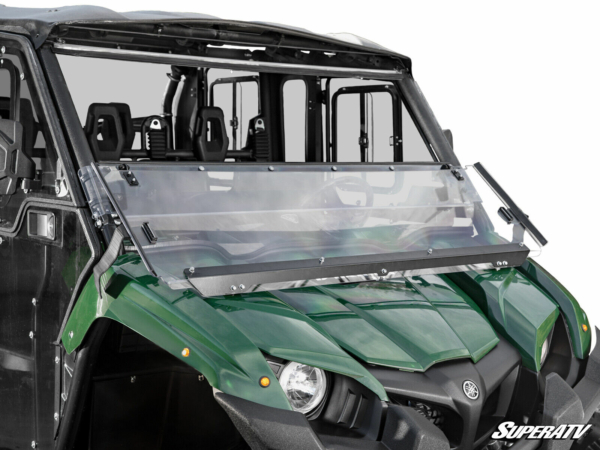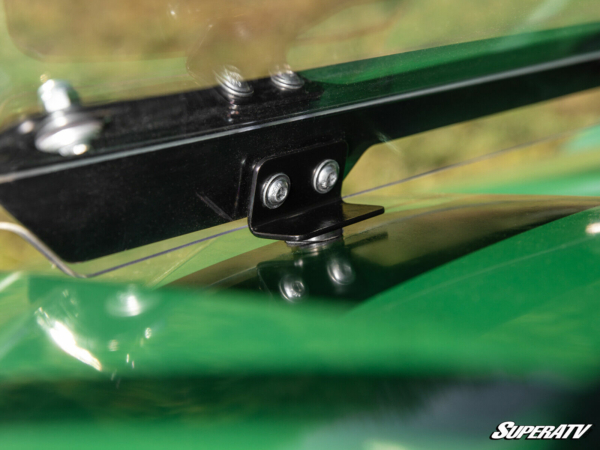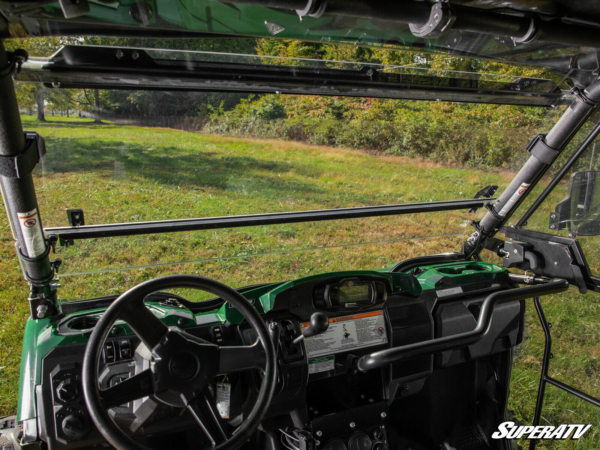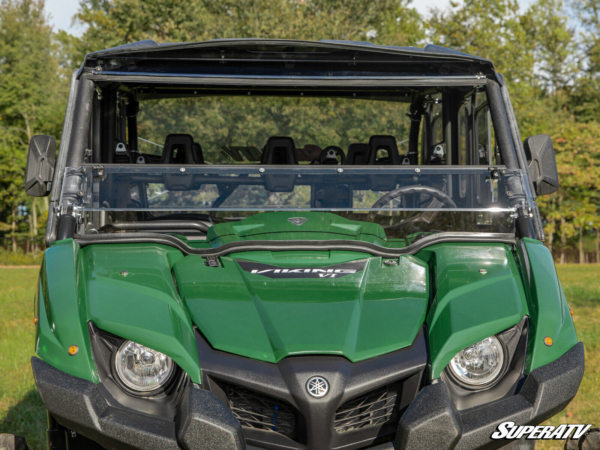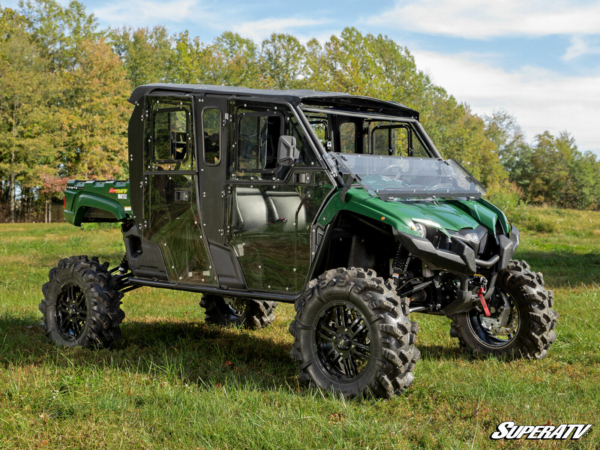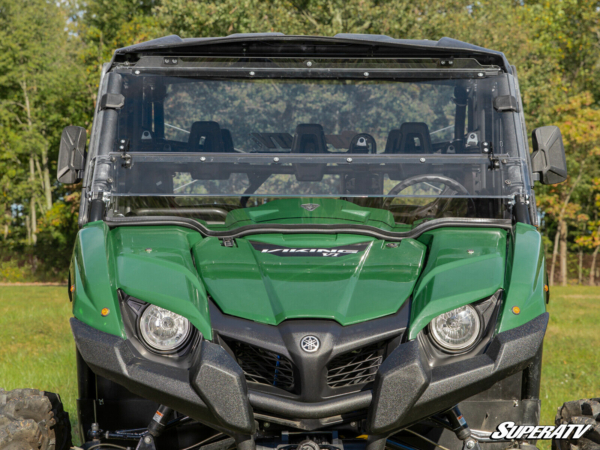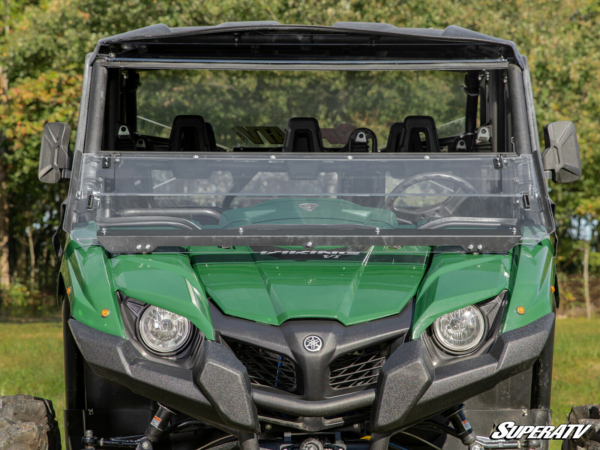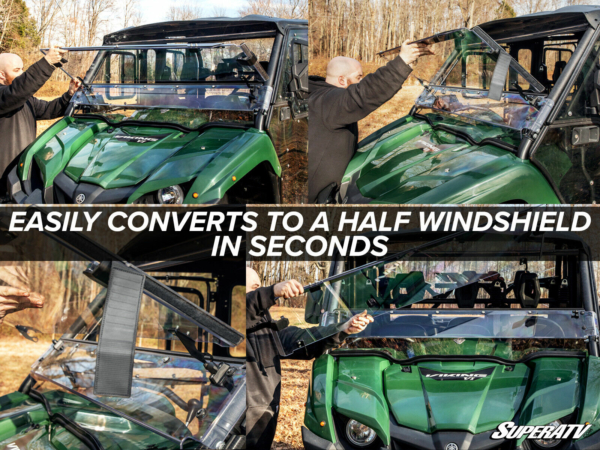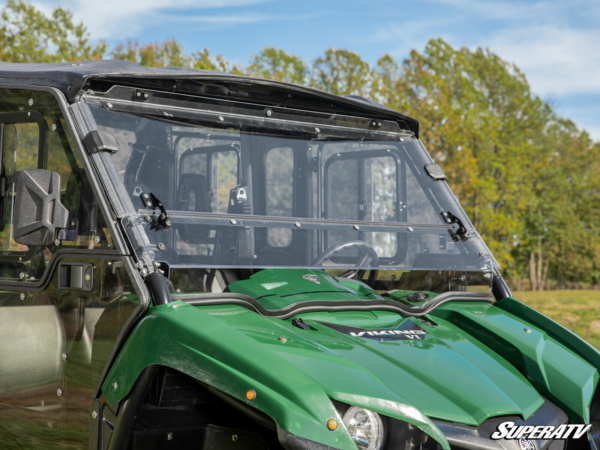 SuperATV Front Scratch Resistant 3 In 1 Windshield for Yamaha Viking / VI
$339.96
Only 1 left in stock
Description
Manufacturer SKU:
WS-Y-VIK-3N1-70
Description from the Manufacturer:
Get Three Windshields in One Package
Between work and play, you're riding your Yamaha Viking in every season. Why not get something to keep you protected from all of the elements? SuperATV's 3-in-1 Windshield lets you shift from a full, a flip-down, and a half windshield in seconds. Plus, there's no need to stop the engine to switch—you can change on the fly. So be ready no matter what the weather brings.
Protection for Any Situation
Predicting the weather is a losing battle. The weather can be too hot in the afternoon but too cold by nightfall. Are you sweating like a pig on your ride? Flip this windshield down and secure it onto magnets for a full, comfortable breeze. Then, if rain pelts your face, you can flip it up. Or if you're certain it'll be dry and clean, pop the top part off and leave it at home for the protection of a half windshield. This Yamaha Viking windshield will be the last piece of cab protection you need.
Super Easy Install
Just because this windshield comes in many forms doesn't mean it's hard to put together. The quick release clamps, patent-pending latches, and the rare-earth magnets snap into place without complications. They have been designed for your machine to create a rattle-free fit. You'll be riding in no time.
Polycarbonate Beats Everything
Polycarbonate is the strongest side-by-side windshield material around. That means our 3-in-1 windshield is 250 times stronger than glass and 25 times stronger than acrylic—it won't crack or break anytime soon. The 1/4" sheets block rocks, bugs, and branches without breaking a sweat.
XR Optic Hard Coating
Perfect clarity comes at no extra cost. Our windshield gets an XR Optic Hard Coating on both sides for the ultimate abrasion and scratch resistance. This proprietary coating provides unbeatable protection from the sun too—there won't be any yellowing, fading, or shiny nicks messing with your clear view.
Fitment from the Manufacturer:
Yamaha Viking : 2014+
Yamaha Viking EPS : 2014+
Yamaha Viking EPS Ranch Edition : 2018+
Yamaha Viking EPS SE : 2015+
Yamaha Viking VI : 2015-2017
Yamaha Viking VI EPS : 2015+
Yamaha Viking VI EPS Ranch Edition : 2016+
Yamaha Viking VI EPS SE : 2015-2016
Features from the Manufacturer:
Switch between a full, flip down, and half windshield
Made of 1/4" polycarbonate—250x stronger than glass and 25x stronger than acrylic
Utilizes our proprietary XR Optic Hard Coating for unmatched scratch resistance
Fits the contours of your cage and hood perfectly
Comes preassembled for easy installation
Can be used with soft or hard tops
Made in the USA
Additional information
| | |
| --- | --- |
| Condition | Used |
| Notes | Customer returned, scratch and dent item that has been QA inspected by the manufacturer. |
Only logged in customers who have purchased this product may leave a review.