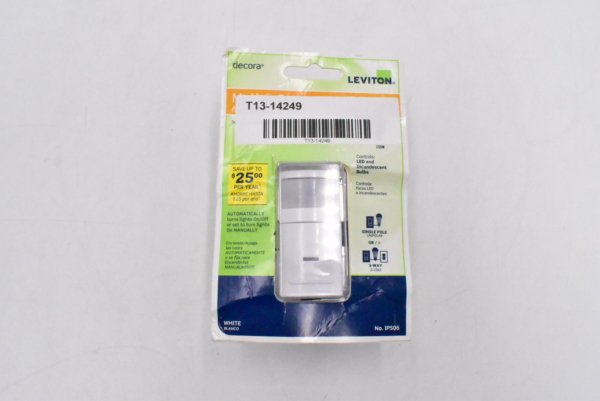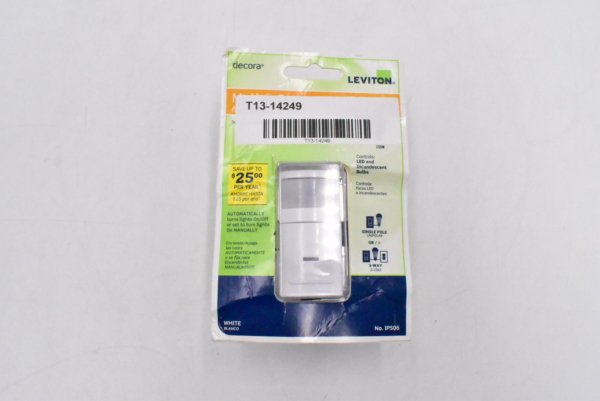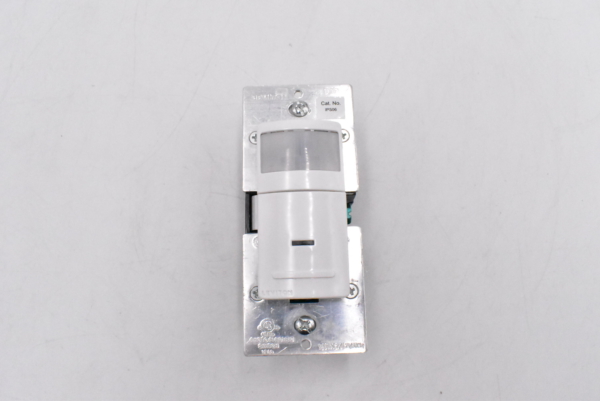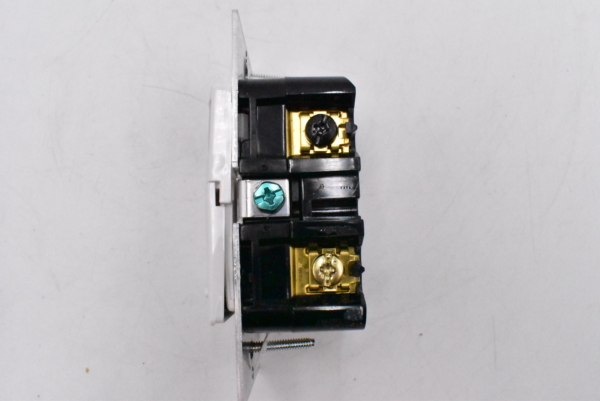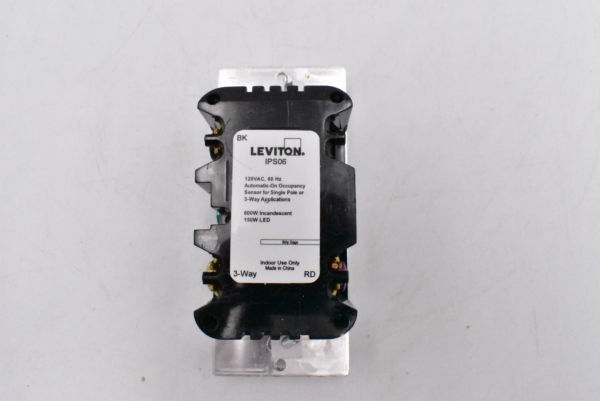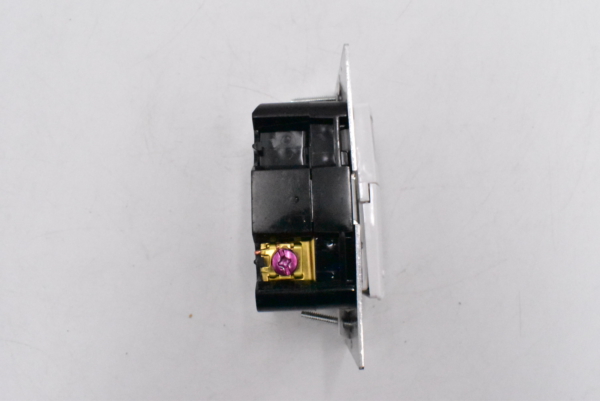 Leviton IPS06-1LW Decora Motion Sensor In-Wall Switch, Single Pole-3Way, White
$21.99
Out of stock
Description
Leviton IPS06-1LW Decora Motion Sensor In-Wall Switch, Auto-On, 5A, Single Pole or 3-Way, White White 1 Pack
Description from the Manufacturer:
Color: White
Size:1 Pack
Leviton IPS06-1LW 600-Watt Incandescent, 150-Watt LED Occupancy Sensor (Auto ON/Auto OFF), Single Pole or 3-Way, White. Compatible with Decora screw-less snap-on wall plates (sold separately).
Lower electrical costs and add convenience to everyday living by replacing standard switches with occupancy sensors. Leviton's IPS06 Occupancy Sensor Switch automatically turns the lights ON when you enter a room and OFF when you leave, convenient in rooms where you frequently enter and exit with your hands full. Ideal for use in laundry rooms, basements, storage areas, pantries and garages. Leviton occupancy sensors are a simple, cost effective way to automate a space in your home.
Perfect for areas where you may have your hands full such as laundry rooms, kitchens, garages, basements, pantries and storage areas rooms. view larger
FEATURES AND BENEFITS
* A simple and effective way to save energy and the associated electric costs. Actual savings from sensors vary greatly depending on usage patterns and occupant habits, but used diligently the energy savings and reduced frequency of bulb replacement over time can provide significant cost savings.
* Time delay settings of 30 seconds, 5 minutes, 15 minutes or 30 minutes for automatic OFF.
* Contains a built-in override function, so the device can be activated to operate as a vacancy sensor meaning lights must be manually switched ON but will automatically turn OFF when the room is vacated.
* Does not require a neutral wire for installation making them perfect for retrofit applications where it may not be present. A ground wire is required for operation.
HOW THE SENSOR WORKS
It uses "passive infrared technology" which responds to the infrared heat people naturally emit to monitor a specific area. When this "heat" is sensed, the lights will stay ON in the room. When you leave the room and this "heat" is no longer sensed the lights will automatically turn OFF.
INSTALLATION AND PLACEMENT CONSIDERATIONS
Leviton Universal Sensors use passive infrared (PIR) technology to detect movement so there are a number of factors that must be considered when installing them.
* They require a clear view of the room or space for accurate detection—any furniture or obstructions that block the sensor's view will prevent occupant's movement from being detected
* For optimal performance, locate with a clear line-of-view of the area to be covered; perpendicular to the likely movement
* They are most effective in small, enclosed areas with high levels of occupant motion
* Size and shape of area needing coverage must be in line with the range of the occupancy sensor
* The more activity there is in a space, the more sensors will contribute to energy savings and convenience
* Avoid installing in locations where nearby airflow may falsely register as motion; be mindful of the location of heating units, air conditioners, dryers and other large appliances that generate rapid changes in temperature or movement
Increase your energy savings and convenience by turning lights on and off automatically view larger
LEVITON IPS06-1LW 600-WATT INCANDESCENT, 150-WATT LED OCCUPANCY SENSOR (AUTO ON/AUTO OFF), SINGLE POLE OR 3-WAY, WHITE
AT A GLANCE:
* Automatic ON/Automatic OFF
* Ideal for hallways, staircases, basements and garages
* Single Pole or 3-way when used with a 3-way switch
* Ambient light sensitivity prevents lights from automatically turning ON when there is ample natural sunlight
* Four timing options for automatic shutoff, from 30 seconds to 30 minutes
Features from the Manufacturer:
Automatic ON/Automatic OFF provides 180-Degree field of view and 900 square feet of coverage
600W Incandescent/Halogen, 150W LED/CFL loads. No Neutral or ground wires required for installation
Single Pole or 3-way when used with a 3-way switch
Ambient light sensitivity prevents lights from automatically turning ON when there is ample natural sunlight
---
Test Results
We tested this by doing the following:
looked for damage, none found
Parts Included in box (only what is listed here is included):
Notes about this item:
New, open box
Tested at: May 6, 2021, 1:54 pm
Additional information
| | |
| --- | --- |
| Condition | New other |
| Notes | open box, new parts |
Only logged in customers who have purchased this product may leave a review.