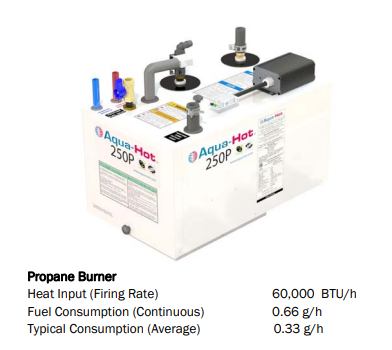 Aqua-Hot 250 Propane Hydronic Heater with Electric Element – Heater Only
$4,285.01
Description
Ultra-Compact Hydronic Heating MODEL 250P
Highly efficient heating and continuous domestic hot water appliance in one compact efficient unit.
Heater with 1 Electric Element Only.
Please see our other listing for complete installation kit, Part Number AHE-250-PROPANE-KIT.
Features
–  Fueled by propane and operated by 12V for off grid applications.
–  Available with a 110 electric element.
–  The all-in-one design of the Aqua-Hot series results in considerable cost and space savings.
–  Single, self-contained unit: Delivers residential-style interior heating using heat exchangers and/or in floor heat with the ability to deliver a luxurious supply of continuous hot water at 110°-120°F at a rate of 1.5 gallons per minute. It's just like the luxury comfort in a traditional home or high-end motorhome.
–  Quiet: Low voltage fans provide an almost completely noise free operation.
–  Fast Installs: Heating, domestic water, and fuel supply/outlet ports are located on top of the tank for easy connection access. Integrated mounting tray facilitates air intake and exhaust.
–  Easy Operation: Heat controlled by your thermostat and endless hot water by simply turning on a faucet.
Specifications
–  Maximum Interior Heat Exchanger Btu/hr 40,000
–  Continuous, Tank-less Hot Water of 110°-120°F at 1.5 GPM
– Aqua‐Hot Cozy Heat Exchangers Supports Up To 5 Connections
–  Fuel Propane
–  Electric Element – Yes
–  Size 11.69″T x 12.45″W x 21.61L
–  Weight 95lb (empty) 124lb (full)
Only logged in customers who have purchased this product may leave a review.