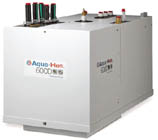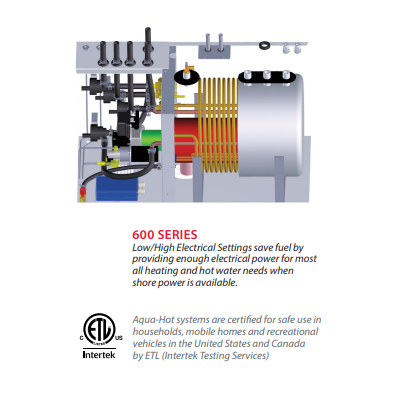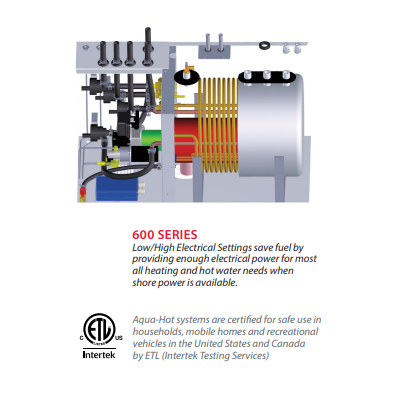 *desc*Aqua-Hot Hydronic Heater-D 60.0 K-BTU 12 VDC 2-2000 W-EL W- Reporter
$11,554.53
Description
Aqua-Hot Diesel Motorhomes MODEL 600D
This unit is the heater with 2 electric elements and recorder only.
Please see our other listing for complete installation kit, Part Number AHE-600-DIESEL-KIT.
Features
–  Continuous on-demand hot water
–  Quiet, clean, even, moist interior heat
–  Fast diesel engine preheating
–  Adds thousands of dollars to the value of an RV
– Can accommodate up to 12 emitters
–  TribridHot – three sources of energy for heating comfort

–  Uses engine heat when driving
–  Uses AC shore power for most heating and hot water uses.
–  Uses diesel fuel for heating in colder temperatures and continuous hot water
Specifications
–  Maximum Interior Heat Exchanger BTUs 65,600
–  Continuous, Tank-less Hot Water 2.0 GPM
–  Engine Preheating Yes
–  Electric Elements 2-120VAC, 2000W
–  Fuel Diesel
–  Max Fuel Usage .41 GPH
–  AVG Fuel Usage /Day Dry Camping 1-4 Gallons
–  AVG Fuel Usage/Day Shore Power 1-2 Gallons
Only logged in customers who have purchased this product may leave a review.