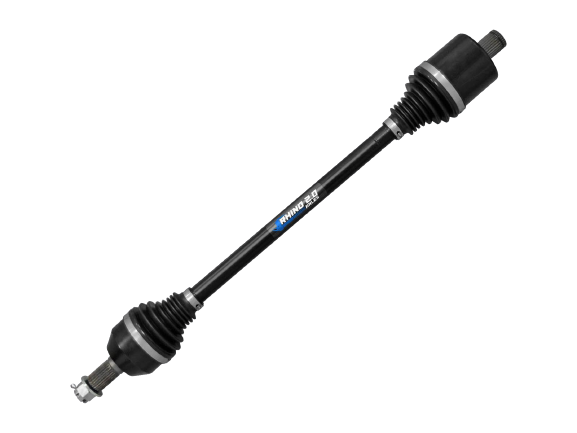 SuperATV Heavy Duty Rhino 2.0 Rear Axle for Can-Am Maverick X3 (64")
$215.96
Out of stock
Description
Description from the Manufacturer:
A Stronger Axle Makes a Better UTV
When you're rolling around on your Can-Am Maverick X3, you can tell that thing is powerful. It rolls through ditches and over logs easily… at least until you blow an axle. SuperATV's Rhino 2.0 Axles are made specifically for your X3 and are better, stronger axles that keep you moving forward no matter what. Ride confidently on Rhino 2.0.
Better Materials and Design—the Rhino 2.0 Formula
What makes Rhino 2.0 so strong? They're SuperATV axles that use an all-chromoly construction—from tip to tip, this advanced alloy gives our axles more strength and durability. We couple that with bigger axle shafts and CV joints for nearly two times the strength of stock UTV axles and cool joints even at high articulation angles. We were careful not to go overboard though: these axles are built to break before your expensive differential does. And it's all made with the performance-boosting Rhino 2.0 formula:
A massive 4 mm increase in shaft size
End-to-end chromoly construction
Proprietary heat treatment
Field Tested, Lab Proven
These aren't some random axles we slapped a sticker on—we design, engineer, test, and manufacture Rhino 2.0 axles. We know their limits and their strengths because we've put them through rigorous testing in our cutting-edge lab and in real-world riding scenarios all across the country. Thanks to decades of experience and good old-fashioned grit, Rhino 2.0 axles are the best heavy-duty Can-Am Maverick X3 axles on the market.
Features:
30% stronger than stock
Made with 4340 chromoly steel
Proprietary heat treatment for superior strength and longevity
Operates at high CV angles
A massive 4mm increase in shaft size
Field and lab tested for extreme strength and endurance
Fitment from Manufacturer:
Replaces OEM Part # Rear : 705502154, 705502362
64″ Wide Machine
Can-Am Maverick X3 900 : 2018
Can-Am Maverick X3 Turbo DS (standard) : 2017+
Can-Am Maverick X3 Turbo R DS (XDS) : 2017+
Can-Am Maverick X3 Turbo XRC : 2018+
Can-Am Maverick X3 Turbo XMR : 2018+
Can-Am Maverick X3 MAX Turbo DS (standard) : 2017+
Can-Am Maverick X3 MAX Turbo R DS (XDS) : 2017+
Can-Am Maverick X3 MAX Turbo RR XDS : 2020+
Item Condition:
Used, very good. This is a customer returned axle that doesn't appear to have actually been ridden on
Additional information
| | |
| --- | --- |
| Condition | Used |
| Notes | Used, very good |
Only logged in customers who have purchased this product may leave a review.